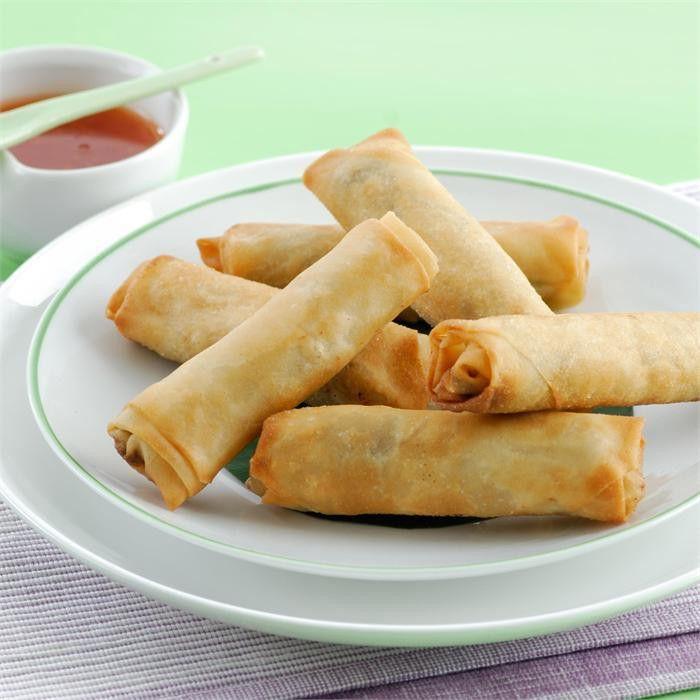 Ingredients
250 g beef mince
50 g bean thread noodles
1 medium carrot, grated coarsely
1 tbsp grated ginger
4 spring onions, finely chopped
2 tsp light soy sauce
20 spring roll pastry sheets (20cm square)
Extra soy sauce to serve
Method
Place noodles in large bowl. Cover with boiling water and stand for 10 minutes. Drain well.
Combine beef, noodles, carrot, ginger, spring onions and soy.
Moisten edges of spring roll wrappers and place on board in a diamond shape with one corner facing you.
Place 25g beef mixture on edge of spring roll wrapper. Roll up tightly, folding ends in to form a rectangular roll approx. 12cm long.
Place oil in large deep pan to a depth of approx. 3cm. Heat over moderately high heat. Test as described below before frying.
Fry spring rolls a few at a time for 6 8 minutes, turning once, until golden brown and crispy.
Drain on absorbent paper. Serve immediately with small bowl of soy sauce for dipping.
Recipe note: For best results test oil with a small piece of bread before frying spring rolls. The bread should sizzle immediately and begin to brown within one minute.
Tips
Serve with light soy sauce.