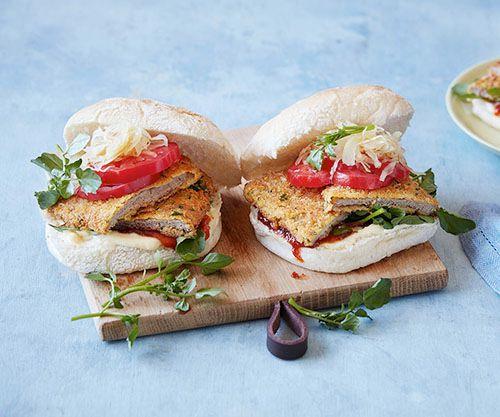 Ingredients
4 Sizzle or minute steaks
1/3 cup Fine polenta meal
2 Eggs, lightly whisked
1 cup Panko breadcrumbs
1 tbsp Finely chopped parsley leaves
2 tbsp Olive oil
2 Oxheart tomatoes, sliced
2 cups Watercress sprigs, soaked in cold water
1 cup Sauerkraut
2 tbsp Whole egg mayonnaise
to serve Chilli jam
4 Square ciabatta rolls, split, toasted
Method
Pour polenta onto a large plate. Place whisked eggs in a medium bowl and panko crumbs on a large plate with parsley and seasoning. Dip minute steaks into polenta, then beaten egg, then panko crumb mixture.
Heat a large frying pan over medium heat, add oil then cook schnitzels for 2 to 3 minutes on each side or until golden brown and cooked through. Rest then slice in half.
Assemble rolls with mayo, chilli jam, tomato, watercress, kraut and schnitzel. Serve immediately.
Tips
Kraut and Kimchi are fermented/pickled vegetables. They are delicious, tangy and great for you. Keep some in the fridge and add a little bit to your rice, sandwiches and salads.
You can freeze extra crumbed schnitzels, just place in a ziplock bag as flat as possible and separate with pieces of baking paper.