Beef sausages with tomato, basil and pasta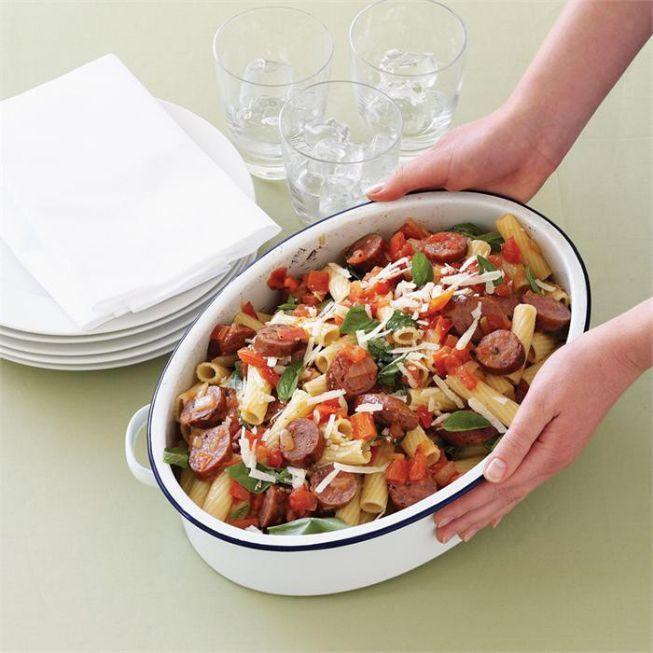 Beef sausages with tomato, basil and pasta
Ingredients
6 beef sausages (plain or flavoured)
500 g tortigliono or spiral pasta
1 tbsp olive oil
1 medium onion, chopped
8 medium roma tomatoes, chopped
2 tsp sugar
0.5 cup basil leaves
0.5 cup freshly grated Parmesan
Method
Barbecue, grill or pan-fry sausages. Put a large pot of water on to boil. Heat oil in a frypan, add onion, and cook until it is soft and golden.
Place pasta in boiling water to cook. Add the tomatoes and sugar to frypan. Cook until tomatoes are just softened. Remove frypan from heat. Slice cooked sausages. Take about half a cup of cooking water from the pasta pot, set it aside.
Drain pasta. Return pasta to pot, add sliced sausages, tomato mixture and a little of the reserved cooking water. Add basil leaves and toss to mix.
Sprinkle with Parmesan to serve.
Tips
It's true sausages contain a little fat this gives them some of their flavour and keeps them moist. The best tip for cooking sausages is not to pierce them before or during the cooking. If you prick good quality sausages you let all the moisture and the flavour out. Our other best tip cook them slowly over a moderate heat. If you cook them too fast over too high a heat the skins may burst.