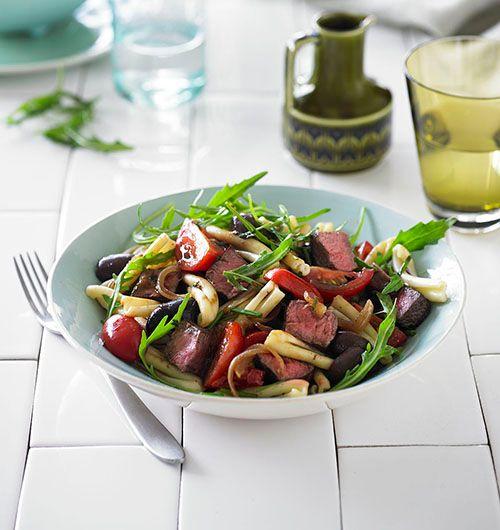 Ingredients
4 x 200g Oyster blade steaks, diced
2 cups Dry pasta, eg spirals
2 Onions, sliced
100g Sun-dried tomato, sliced thinly
100g Kalamata olives, pitted
¼ bunch Basil, chopped
¼ bunch Chives, chopped
250g Cherry tomatoes, halved
200g Rocket or mixed lettuce leaves
2 tbsp Olive oil
1 tbsp Balsamic vinegar
1 tbsp Soy sauce
Method
Cook the pasta as per packet instructions - strain in colander and leave to cool in cold water.
Heat a wok to hot and add 1 tbsp of oil and cook the beef in 3 batches; set aside when cooked and loosely cover with aluminium foil.
Cook the sliced onions in the wok over low heat until soft and translucent. There is no need to add oil.
In a bowl, mix the tomatoes, olives, onions, herbs, cooked beef and pasta; season with olive oil, balsamic vinegar and soy sauce. Just before serving, add rocket or mixed lettuce leaves.
Tips
Try a wholemeal or whole grain pasta to boost fibre intake.