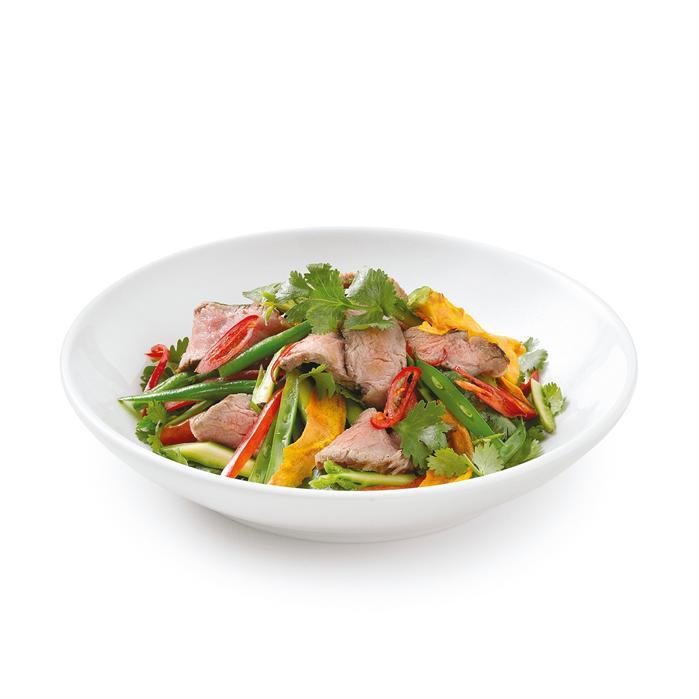 Ingredients
2 thick-cut sirloin steaks, trimmed (300g each)
2 tsp thyme leaves
2 small red sweet potatoes, peeled
400 g green beans, trimmed, cooked
1 bunch asparagus, trimmed, cooked
1 red capsicum, finely sliced
1 small bunch coriander, leaves only
1 red chilli, sliced
1 tbsp olive oil
Method
Brush or spray steaks lightly with oil. Sprinkle with thyme. Preheat barbecue to hot, or a pan to moderately-hot. Cook steaks on one side until the first sign of moisture appears. Turn steaks once only. When cooked to preferred doneness, remove and rest steaks for 5 mins.
Peel sweet potatoes with a potato peeler into long, thin slices. Brush or spray the slices lightly with oil. Heat a non-stick frypan until hot, cook slices in small batches until crisp.
Toss remaining ingredients together. Pile salad and sweet potato on serving plates. Slice steaks thinly, place on top of salad.
Tips
Always preheat the pan when you are cooking meat to ensure it browns well.
Use a pan that suits the quantity of meat to be cooked so that it doesn't stew in the pan.
Always oil the meat and not the pan so that the oil doesn't burn.