Barbecued butterflied lamb with Greek salad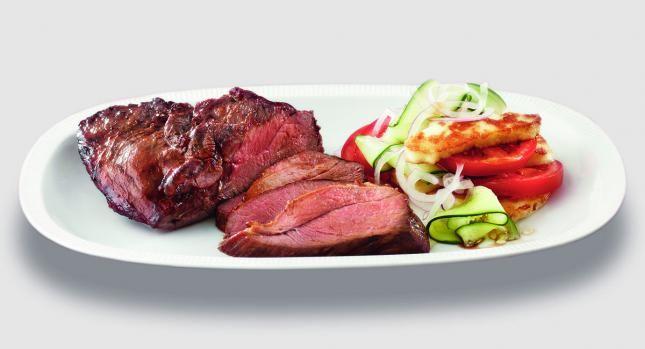 Barbecued butterflied lamb with Greek salad
Ingredients
1 x 1.5kg Butterflied Lamb leg, trimmed
2 tbsp Soy
1 tbsp Tomato sauce
2 tbsp Maple syrup
1 tbsp White wine vinegar
Greek salad
1 x 250g Haloumi sliced
1 Small red onion, thinly sliced
1 Lebanese cucumber, thinly sliced
2 Vine-ripened tomatoes, sliced
Method
Pre-heat a covered barbecue to hot. Trim the Lamb of any fat. Combine the soy, tomato sauce, maple syrup in a large dish, add the lamb and toss to coat.
Barbecue for 5 min on each side, brushing with marinade. Close the lid of the barbecue and cook for 30 min for medium or until cooked to your liking.
To make the Greek salad, brush the haloumi with 1 tbsp of remaining oil, heat a non stick frying pan over high heat, cook for 1 min each side or until golden. Arrange in a bowl with the onion, cucumber and tomato.
Combine the remaining oil with balsamic and drizzle over the salad. Serve with the Lamb.