Barbecued butterflied lamb leg with herb mayonnaise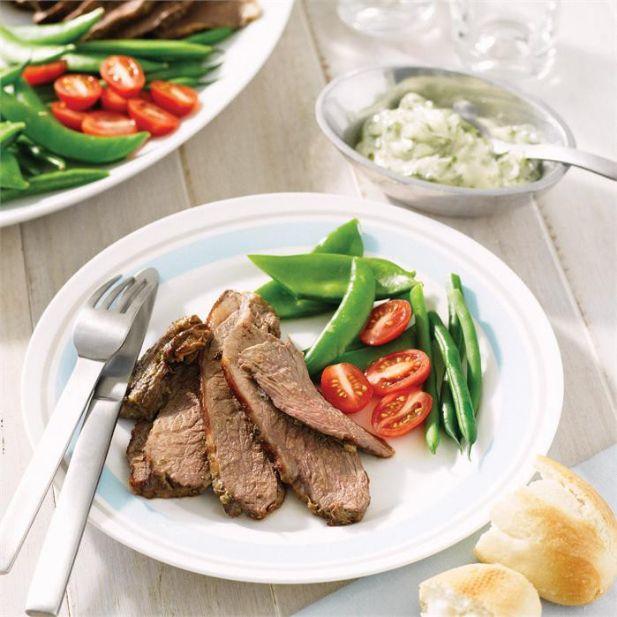 Barbecued butterflied lamb leg with herb mayonnaise
Ingredients
1.5 kg Leg of lamb, boned and butterflied
1 tbps Fresh rosemary leaves, chopped
1 tbps Olive oil
1 tbps Dijon mustard
A selection of raw and blanched seasonal vegetables
Herb mayonnaise
0.5 cup Whole egg style mayonnaise
Fresh chives, dill, parsley or coriander, chopped lemon juice
Method
Preheat the barbecue flat-plate or char-grill plate to hot. Score the inside of the butterflied lamb leg in a criss-cross fashion. Combine rosemary, oil and mustard and smear over both sides of lamb.
Place the lamb on the barbecue, reduce heat to moderately-hot. Cook the first side of the lamb for 20 minutes, turn and cook for a further 20 minutes.
Remove lamb cover loosely with foil, and rest lamb for 15 minutes before slicing. Serve the lamb with vegetables and the Herb mayonnaise.
To make Herb mayonnaise: Combine mayonnaise with freshly chopped herbs and squeeze of lemon juice.
Tips
Ask you butcher to bone and butterfly the leg of lamb, for you.
Always rest meat after cooking. This gives the juices in the meat a chance to redistribute, giving a moister and more tender result. Transfer the meat to a plate and loosely cover with foil, stand the meat to rest in a warm place.