Baked beef, eggplant and lentil curry with steamed basmati rice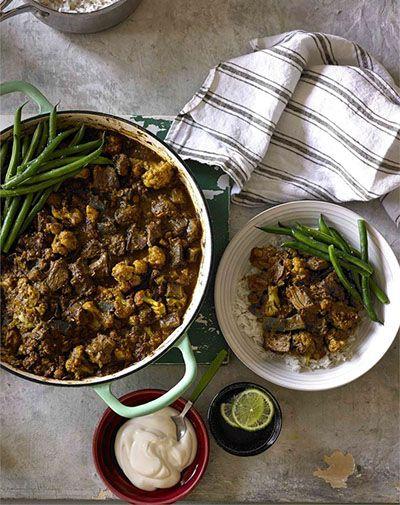 Baked beef, eggplant and lentil curry with steamed basmati rice
Ingredients
800g Boneless beef shin or gravy beef, diced into 3-4cm cubes
1 tbsp Sunflower oil
1 Brown onion, finely sliced
3 cloves Garlic, finely chopped
4cm Ginger, finely grated
5 tbsp Curry powder
3 Ripe Roma tomatoes, diced
150g Yellow lentils, soaked in cold water for 30 minutes
1 Eggplant, diced into 2cm cubes
½ head Cauliflower, cut into florets
Juice of 1 lemon, optional
Steamed basmati rice
200g Green beans, steamed
Greek yoghurt
Method
Preheat oven to 180°C. Place the beef in a bowl with the oil and toss until coated.
Heat a large casserole or deep frying pan over high heat and brown the beef in two batches.
Add the onions and cook for 3 minutes, occasionally stirring until softened. Add the garlic, ginger and curry powder and stir for around 30 seconds until fragrant. Add the tomatoes, lentils and 2 cups of water and bring to the boil. Reduce the heat to low, then cover and bake for 1 hour.
Lightly sprinkle the diced eggplant with salt and set to drain in a colander. Add drained eggplant and cauliflower to the curry, stir into the sauce, then cover and cook for another 30 minutes or until beef is tender. Season with salt, pepper and lemon juice.
Serve the curry with steamed basmati rice, green beans and Greek yoghurt.
Tips
When cooking with legumes or pulses such as lentils and chickpeas, add salt at the end of the cooking time, so they don't toughen up.
You can cook this recipe on the stovetop over low heat for similar results. Stir occasionally to make sure it doesn't stick to the pan.
Try using diced chuck or brisket instead of the boneless beef shin.