Australian beef tenderloin parmesan risotto and pan juices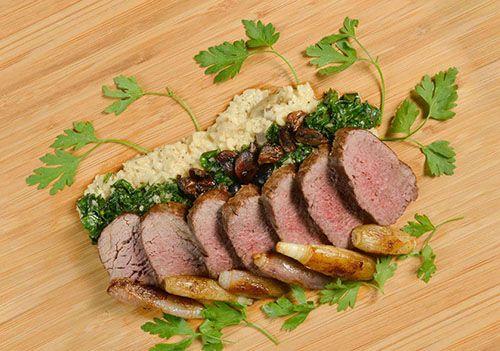 Australian beef tenderloin parmesan risotto and pan juices
Ingredients
1kg Australian Beef Tenderloin
Olive Oil
50g Butter
2 Garlic Cloves, peeled and chopped
1 Spring of Rosemary, leaves stripped and chopped
50g Shallots, diced
100g Risotto Rice
375ml Water
10 Black Olives
Salt to Taste
Black Pepper to Taste
4 Garlic Cloves
400g Spinach
Roast Shallots
4 Banana Shallots, peeled
50g of Wild Mushrooms
Method
Preheat the oven to 180ºC

Remove the meat from the fridge and leave to sit at room temperature for one hour.

Rub beef with olive oil and sprinkle salt over it.

Place on a hot pan with some oil.

Cook the beef on one side until a thick crust has formed. Flip the beef and do the same for the other side until both sides are well cooked through.

In a separate pan, melt butter over medium heat. Add the rice. Stir well.

Next, add the banana shallots to the beef and allow to sweat without browning for 2 minutes. Then, add the mushrooms and sauté until golden brown.

Transfer the rice to a pot, pour over the water and bring to a simmer.

In a separate pan, fry 50g shallots and garlic in olive oil. Stir gently then add to the pot.

Next, remove the beef from the stove and bake at 350 F (180 C) for 15 minutes.

Warm the risotto, adding a little water if needed, then cook until hot and has the consistency of rice pudding.

Add a knob of butter and garlic and continue to cook until nicely caramelised, which should take approximately 1-2 minutes.

Add the rosemary and spinach along with some salt and pepper. Then, add the olives.

Spoon the risotto onto the plate and place a line of spinach on top. Slice the lamb and season each slice, then place on top of the spinach. Place the shallots, mushrooms and olives around, spoon over some pan juices.