Australian beef rump spaghetti with sun dried tomatoes and spinach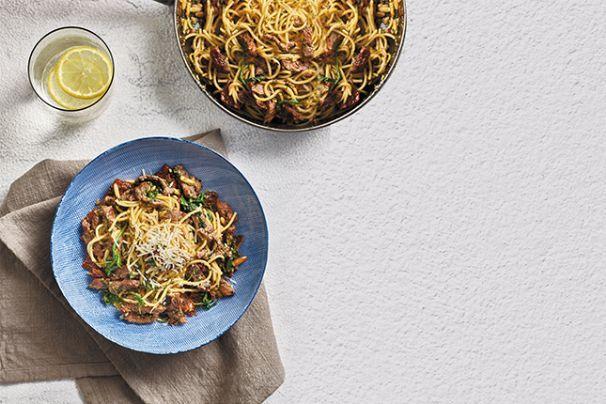 Australian beef rump spaghetti with sun dried tomatoes and spinach
Ingredients
500g Australian Beef Rump
350g Spaghetti
Salt and freshly ground black pepper
1 (8.5 oz) jar Sun Dried Tomatoes in Olive Oil
1 Tbsp Minced garlic
1 bunch Baby Spinach, chopped
1 bunch Arugula, chopped
1/2 cup Chopped fresh Basil
1/3 cup Parmesan Cheese
1/4 cup Pine Nuts
Method
Cook spaghetti according to package instructions. Drain while reserving 1/2 cup pasta water.
In a heated pan, add oil and cook the pine nuts for a minute. Remove from pan and keep aside.
In the same pan, add oil and the beef and fry for 3-5 minutes until browned. Add salt, garlic, sun-dried tomatoes, and spinach and arugula and saute until spinach wilts. Add a teaspoon of pine nuts.
Toss spaghetti into pot with spinach. Thin with pasta water as needed.
Finally, add in parmesan, spinach and arugula and sprinkle salt and pepper. Serve warm with each serving garnished with oil, pine nuts and parmesan.