Zaatar crusted tenderloin carpaccio with wild thyme salad & pomegranate vinaigrette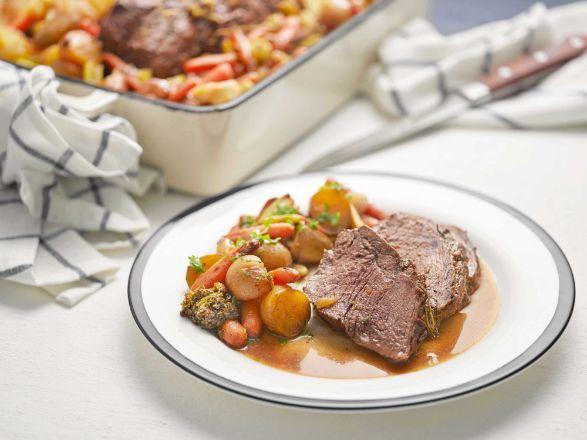 Zaatar crusted tenderloin carpaccio with wild thyme salad & pomegranate vinaigrette
Ingredients
1.5kg Australian Beef Tenderloin
¼ cup Worcestershire Sauce
4 tsp Paprika
1 cup Beef St
4-6 Garlic Cloves, whole
2 cups Baby Carrots
2 cups Baby Potatoes
2 Celery Stalks
2 cups Broccoli
2 cup Shallots
2-3 Sprigs Thyme
Olive Oil
Salt and Pepper, to taste
Method
Remove the beef from the fridge 30 minutes before you want to cook it, to let it come up to room temperature.
Pre-heat oven to 180C.
Heat a large pot over medium-high heat. Drizzle the beef with olive oil and season well with salt, pepper and paprika, then rub all over the meat. Place beef on the pot. Brown all sides, about 2-3 minutes per side. Remove from pot and set aside.
In the same pot, heat olive oil. Add all the vegetables, except the garlic, then sauté over medium heat for 5-6 minutes. Next, add garlic cloves, salt, pepper and paprika and stir to combine.
Next, place the beef in the middle of a baking dish and the cooked vegetables around it. Pour in the Worcestershire sauce and beef stock. Finally, add sprigs of thyme on top.
Place in oven and roast for 1-1.5 hours depending on desired doneness or until beef and vegetables are tender.